One solution to the unreliability of the electricity grid is autonomous solar power generators that provide free electricity to everyone and automatic power-cut recovery to households and small businesses on the grid.
Currently DizzitUp portfolio includes two autonomous solar home systems product lines :
DizziBox AC/DC, an all-in-one 220V AC/12V DC hybrid solar kit for off-grid and on-grid configuration
DizziBox Premium, a 220V AC solar power generator that comes in different sizes ranging from 2,5KW to 10 kW and not only works as an off-grid solution, but can be used by people connected to the grid as well.
In this article we will focus on DizziBox Premium 5.5 kW.
DizziBox AC/DC
DizziBox Premium
 

An off-grid AC/DC hybrid Solar Home System for house or shop, restaurant and workshop

Lithium-Ion battery

Pure sine 300W AC/DC inverter

220V AC Output Sockets (2 plugs)

4 in 1 USB Phone Charging

4 5W LED lamps

Foldable Mono PV solar

2 years Warranty

Options (Add-on): Airtel Wifi-4G router

An off-grid or on-grid Solar Power Generator for 2 to 5 bedroom house or shop, restaurant and workshop. 

220V AC electricity production

2,5KW to 10KW inverter

Pure sine AC/DC Inverter

Automatic switch (power cut protection)

Mono PV Solar

Lithium-Ion or Gel batteries

2 years Warranty
The most common types of power generators are the Diesel ones. Compared to DizziBox Premium, a 5.5kW Diesel generator comes with a much lower price-tag, which is very attractive, but is it really the best solution?
Costs of a Diesel generator
The price of a 5.5 kW Diesel genset is around $1,600, and its maintenance costs very little ($160). The main cost of such a generator is the Diesel necessary to operate it. The quantity of Diesel used depends mainly on how big the generator is, how many hours per day it is used and the price of the Diesel per liter. We estimate that if a household or shop uses 4.5 kW of electricity every hour for 6.7h and the price of one liter of Diesel amounts to $0.71, then the yearly price for fuel is equal to $3,140.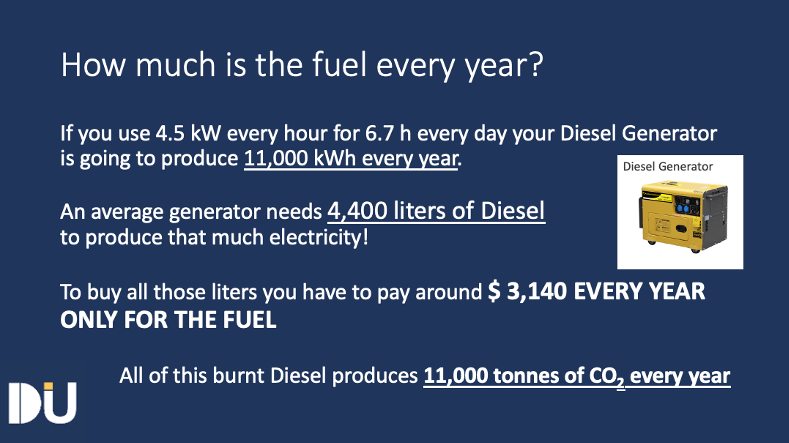 Diesel Generator CO2 emissions.
Assuming that every liter of Diesel burned by a generator produces 2.5 kg of CO2, by owning and using a Diesel generator, households are releasing 11 tonnes of CO2 in the air around them every year. This amount of carbon comes only from the generator and is around the same as the CO2 per capita of countries like Russia or South Korea, and very far from the average CO2 per capita in Togo.
This means that if an African household or shop owner has a  Diesel generator they become a major contributor to the pollution of their country. By using a 5.5 kW Diesel generator an African household produces more carbon than the average citizen of countries like the UK, China or Germany. This of course doesn't happen with DizziBox, which has ZERO carbon emissions. Africa needs to go solar.
DizziBox = 88 tonnes of CO2 saved over 8 years
Costs of Dizzibox
The cost of DizziBox comes down to the price of the system ($8,000) plus the yearly maintenance costs ($1,000), which includes cleaning of the cells, battery maintenance and year-long access to DizzitUp customer care. Arguably, one of the benefits of DizziBox is its simplicity. DizzitUp takes care of everything, households and shop owners don't need to do anything to keep the system running and there are no additional operation costs.
 

DizziBox Premium

Diesel Generator

Price of the system

$ 8,000

$ 1,600

Yearly maintenance cost


(for example cleaning)

$ 1,000

$ 160

Yearly operation cost


(for example fuel)

$ 0

$ 3,140
Cost of ownership
Both DizziBox 5.5kW and a fuel powered generator of the same size have an expected lifetime of 8 years. Let's take a closer look at how much owning each of them costs considering this timeframe.
To make the best comparison between the two investments we try to find a price for each generator that could be paid today and that takes into account all future payments. The Cost of Ownership therefore represents how much households or shop owners should pay today for each system if they wanted to keep it for 5 or 8 years and they didn't want to make any payment in the future.  
The details of the calculation are in the appendix and the results are presented in the table below:
 

Price of system
Yearly expenses
Cost of ownership
(5 years)
Cost of ownership
(8 years)
DizziBox

$8,000

$1,000
$11,800
$13,400
Diesel Generator

$1,600

$3,300

$14,300

$20,000
With DizziBox Premium 5.5kW you save $6.5k without emitting carbon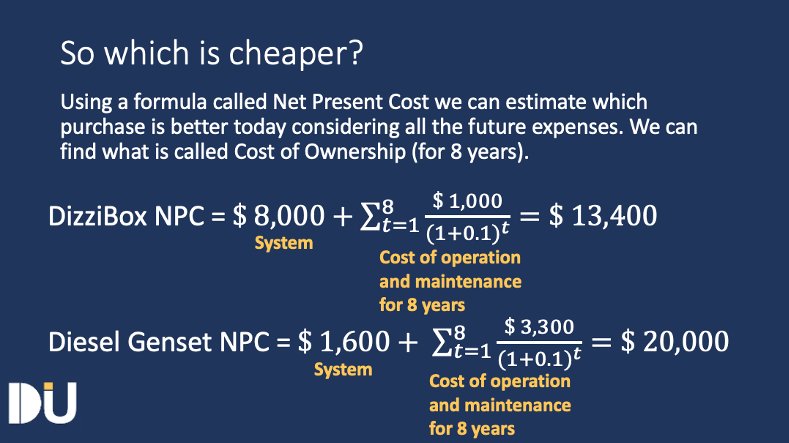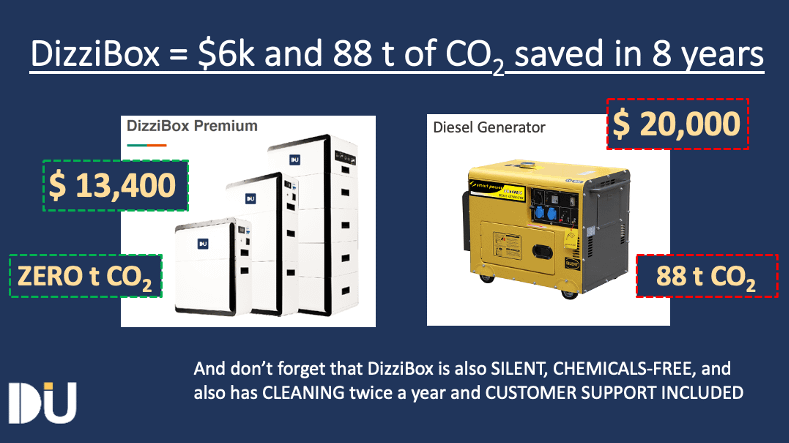 Financing, our additional value added service
Our cost of ownership analysis might show that DizziBox Premium 5.5kW is a better investment. When looking at the price of the system, though, prospects see a very different picture. To buy DizziBox premium one has to pay $8,000 today, while to buy a Diesel generator only $1,600!
This is where our financing plan comes in. Customers can choose to pay only 20% of the price of the system today and pay the rest in monthly rates over 8 years (with 11.6% yearly interest rate)[1]. With this financing plan it becomes clear which system is a better investment.
| | | | | | | | | | | |
| --- | --- | --- | --- | --- | --- | --- | --- | --- | --- | --- |
|   | Today | Year 1 | Year 2 | Year 3 | Year 4 | Year 5 | Year 6 | Year 7 | Year 8 | Total |
| DizziBox | $1,600 | $2,300 | $2,300 | $2,300 | $2,300 | $2,300 | $2,300 | $2,300 | $2,300 | |
| (discounted)[2] | $1,600 | $2,100 | $1,900 | $1,800 | $1,600 | $1,400 | $1,300 | $1,200 | $1,100 | $14,000 |
| Diesel | $1,600 | $3,300 | $3,300 | $3,300 | $3,300 | $3,300 | $3,300 | $3,300 | $3,300 | |
| (discounted) | $1,600 | $3,000 | $2,800 | $2,500 | $2,300 | $2,100 | $1,900 | $1,700 | $1,600 | $20,000 |
DizziBox with financing = same initial price and $6.5k saved over 8 years
The post With DizziBox Premium, save $6.5k in 8 years while protecting the planet appeared first on Light is Life, Money is The Fuel.